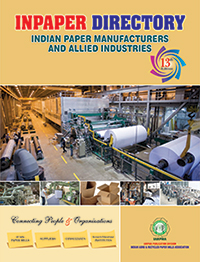 The 13th Edition of the Directory has been released on 3 December 2019 by Shri Harshpati Singhania, Managing Director, JK Paper Mills Ltd during the inaugural function of - PAPEREX-2019 - - an International Exhibition and Conference on Pulp, Paper & Allied Industries
The presence of Indian Paper Industry in the global scenario is encouraging as India's share in global paper market is gradually growing along with domestic demand which is also increasing steadily. The domestic production in India has reached 22 million tonnes in the Financial year 2018-19 at a CAGR of 7 % on an average basis. Consequently the per capita paper consumption in India stands at a little over 16.5 kg which is well below the global average of 57 kg and significantly below 200 kg in North America.
In India, as per the details collected by Indian Agro & Recycled Paper Mills Association (IARPMA), there are around 865 paper mills including closed mills with an installed capacity of 28 Million tonnes. However, 24.5 million tonnes capacity is in operation now. Many mills are closed permanently but some are closed temporarily while few may be revived later. Therefore, in this directory, IARPMA listed around 779 paper mills including few closed mills which are expected to be in operational in near future.
There are mainly four segments such as Printing & Writing (P&W), Packaging Paper & Board, Specialty Papers, and Newsprint. As the apex body of Indian Paper Industry based on Non-Conventional raw material, IARPMA expects that the overall paper demand will continue to grow at a CAGR of 7% and is likely to touch 33 million tonnes by the year 2025-26. However, there are many challenges viz. access to quality and cost competitive raw materials, uncontrolled imports and technological obsolescence which are some of the major factors that impacts the growth, particularly for the small and medium units of the industry. To meet the projected demand, the industry has to judiciously charter its road map by addressing all these bottlenecks.
As the apex body of Indian Paper Industry, Indian Agro & Recycled Paper Mills Association (IARPMA) is presenting information on Indian Paper Industry to help the policy makers of the industry as well as the people those who want to know about the Indian Paper Industry. As industry is dynamic, the Paper Industry in India is growing, over the years and a number of changes have taken place in the industry such as changes in Management, production as well as capacity addition to the existing mills since our last issue of Inpaper Directory in 2017.
While acknowledging with gratitude the overwhelming response received from the paper and its allied industry towards the earlier edition, I have great pleasure in presenting the 13th Edition of "Inpaper Directory of Indian Paper Manufacturers and Allied Industry" which is providing information about mills, nature of products manufactured and also the raw materials consumed. I am sure, as in the past, this latest Edition of Inpaper Directory will be received with enthusiasm by one and all and will meet with the needs of paper producers, users, as well as policy makers and all those connected with the Paper and Allied Industries in the country and outside. While preparing this latest edition of the directory, IARPMA had given maximum attention to include complete and correct information, however, if you notice any error in the information, we hope you will bring such errors to our notice which will help us to update such information for the future use.
I would like to thank all those who have extended their whole hearted support and cooperation, particularly paper mills, suppliers, consultants, R & D organizations and educational institutes by providing the information to make this directory more authentic. I would also like to compliment the efforts put in by IARPMA Team for collection, compilation and publication of this directory.
I have great pleasure in presenting this directory to the Indian Paper Industry and am expecting your feedback for making the future editions of this directory more and more informative.
Pramod Agarwal
President
Indian Agro & Recycled Paper Mills Association (IARPMA)
E-mail: iarpma@inpaper.com / publication@inpaper.com