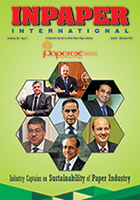 Inpaper International is a quarterly Journal on world pulp and paper industry published by IARPMA (Indian Agro & Recycled Paper Mills Association) - the national apex body of Indian Paper Industry based on Non-convetnional renewable raw materials(NCRM). INPAPER is published by the Indian Paper Industry Association – IARPMA, with an aim to introduce and also to highlight the world class state of the art technologies and R & D Activities to the door step of Indian Paper Industry. Today Inpaper International is a foreseeable publication for all the paper mills in India and also a window for paper manufacturers and technology suppliers to identify genuine business partners as well as technologies. INPAPER IS THE ONLY PUBLICATION IN INDIA BROUGHT OUT BY THE INDIAN PAPER INDUSTRY ITSELF TO CATER ITS ENTIRE TECHNICAL, RAW MATERIAL AND RELATED SERVICES.
The editorial coverage of Inpaper is focusing and also highlighting all the issues confronted by the Paper Mills based on wood, agro residues and waste paper as basic raw material.
Today Inpaper is an inevitable publication to all the stake holders of Pulp, Paper and Allied Industry in India as well as overseas countries such as manufacturers of Paper, Kraft, Duplex etc, Machinery suppliers, Raw material suppliers, Chemical Suppliers, Importers, Exporters, Traders / Distributors, Printers & Publishers, Research and Educational Institutions, Govt. Ministries, Technical libraries, Embassies and High commissions of various countries in India and overseas countries.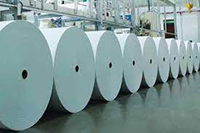 India is the fastest growing market for paper globally and it presents an exciting scenario with paper consumption poised for a big leap forward to sync with the economic growth. The domestic demand is increasing at a steady pace. Growing manufacturing sector, requirement of better quality packaging of FMCG products marketed through organized retail and the demand for the upstream market of paper products, such as tissue paper, filter paper, tea bags, light weight online coated paper and medical grade coated paper are expected to drive the paper & paper products market in India in coming years. Packaging sector is also growing along with the FMCG sectors in India. The per capita paper consumption in India at a little over 16 kg, is way behind the global average of 57 kg. The paper and board industry in India is considering this transition phase as a great opportunity coupled with the challenge of providing affordable alternatives. Paper mills are conducting various trials to make paper and paperboard for the intended use, like carrying, wrapping, protecting, packing and holding as a container.
Under the baseline scenario, by 2024-25, domestic consumption is projected to rise to 27 million tpa with a production of 25 million tpa. India is the fastest growing market for paper globally and it presents an exciting scenario; paper consumption is poised for a big leap forward in sync with the economic growth.